In our day and age, professional web design matters when it comes to doing local business marketing in St. Petersburg. So how do I chose the right web design agency? Most of your clients will get their first impression about you and your company as they navigate through the pages on your website. Having up-to-date, accurate, and easy-to-navigate site is no longer just for high-tech brands and giant corporations. Let Strategic Media Inc. help you portray your business accurately. Gain the trust of your customers at first click.
Why Bother with Professional Web Design?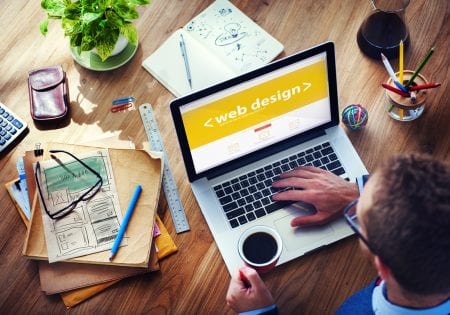 If you are reading this page on our site right now, then you are experiencing Strategic Media Inc.'s internet presence. Which is the same thing your site will provide to your clients in St. Petersburg. When you hire Strategic Media to provide you with professional web design services, you are not just buying a nice layout and some attractive graphics. You are working closely with us to create a storefront for your business and a home for your brand. We will use the latest features to put you ahead of your competitors.
Aesthetics are a big part of professional web design. But many more critical factors separate a successful website from one that does not appeal to your target consumer. What do we think about when we work on your site? Here are a few things we consider:
Responsive & Mobile
Today Google is indexing your site by mobile first. Which means that its highly important to make sure that your site is Mobile friendly. Strategic Media Inc follows the trends and knows what's best for Googles best rankings. We make sure we code your site the best possible way. Whether you're building a site for your personal brand, your business brand or just want to redesign an existing site, Strategic Media Inc has you covered.
We Get A Clear Picture Of Your Target Market
A no-brainer for us, but often a business will represent their company to their online audience without tailoring their site to appeal to their target market. The color schemes, graphics, and fonts that you will need to use to make your business appeal to a middle-aged, career-focused consumer. It will be entirely different from the look and feel of a site that wishes to capture the attention of teenage hipsters in St. Petersburg. Thinking like your clients to capture their attention is vital in professional web design.
We Focus On A Strong Call To Action
We work with you to understand what your business is all about. Are you selling a particular product? Are you providing a service? Having a clear picture of what you do allows us to create a strong call to action for your online visitor. We work the call to action into our professional web design to make it easy for your clients to buy, order, or call you without struggling to figure out why they are on your site in the first place.
We Stay Up With The Trends
Technology is never stationary in St. Petersburg, and creating modern websites means regularly familiarizing ourselves with what is going on in the tech world. Being aware of the latest applications and plugins, keeping tabs on the most recent trends in graphic strategy, SEO and the newest from the world of coding are all daily activities for us. Having an out-of-date site can send the wrong signal to your client, telling them that your business is stale and outdated. We strive to stay on top of things to provide a good experience and strong first or repeat impression to your customers.
Better Communication Between Clients And Owners
In the past visiting a website was pretty much strictly for gathering information. However, times have changed. With the technology we have now, a website is a perfect platform for your client to share concerns and give feedback. If the people visiting your website have trouble contacting you or finding valuable information, odds are they won't stay on your website very long. It also just doesn't look very professional. As stated above, your website is going to be many people's first impression of your business. So you want to look professional, consistent, and offer the best customer service possible. Bad online reviews can be lethal.
Web Design Correlates With SEO
Of course, you want your website to appeal aesthetically, but you also want it to rank high in the google search. We'll design a site aesthetically pleasing, but along with this and your content, we will improve your click-through rate or CTR. If your users are clicking right in and out of your site, this leads to lower rankings in the search engine. Luckily though, when you have a professional web designer with Strategic Media Inc., they will take all of this into consideration and allow for the best kind of traffic on your website. So our primary goal isn't to make your site look pretty but to have an organized and easy to navigate site. This ensures your users a smooth experience. Additionally, it easier for Google to index your information and bring your content to more people.
Call Strategic Media for Professional Web Design Services Today!
If your business in St. Petersburg is not taking advantage of the power that comes with a strong online presence, you are losing clients to your competitors! Let our digital marketing agency Strategic Media Inc. help you create a storefront for your company with professional web design services right away. We work with your enterprise to create something true to your brand and pleasant for your customers. Give us a call today to discuss your website needs at 727-531-7622. We also offer SEO, social media, online marketing, and indoor advertising services.