Our Google AdWords Agency is Here to Help!
Hiring a Google AdWords agency is an excellent strategy for building traffic to your site. However, the process of creating ads and bidding on keywords can become quite complex if you do not know what you are doing.
An agency that specializes in Google AdWords can take a lot of the stress off of your already busy schedule. Our advertising professionals have the experience required to navigate the ever-changing world of the internet.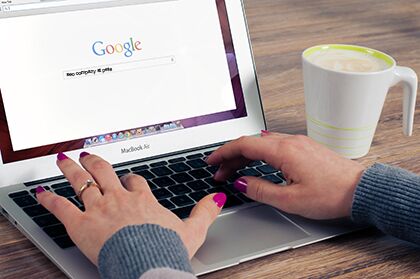 What Is Google AdWords?
Google Ads is an advertising system that allows you to target an exact audience. Advertisers bid on specific keywords so their ads can pop up in the search results of people looking for information relevant to the advertiser's business. The bidding process is quite complicated.
It's essential that you're bidding on rich keywords that people are actively using in searches, to see any real results. Furthermore, Google Ads is a very cost-effective marketing solution. It's Pay-Per-Click (PPC) advertising, so you pay based on the number of clicks your ad receives.
How Does PPC Advertising Work?
PPC is basically a way to pay for visits to your site rather than earning them organically. The traffic benefits end up being well worth the small fees charged for clicks. For example, paying 3 dollars a click that ends up selling a $400 product is well worth it. You just need to ensure you're bidding on relevant keywords.
If you're bidding on keywords that have to do with the construction industry and you're trying to sell fish tanks, this won't work out in your favor. If you're in this position, it might be time to call in a Google AdWords agency.
Two Key Factors Determine Where Your Ad Ranks
Maximum bid
Quality score
Your maximum bid is how much you're willing to pay per click. Higher bids will generally help your ad show up higher up in the search engines. But don't underestimate the power of quality content. If your ads create conversions and users seem engaged in your content, you could end up paying less for ads. This is because Google will promote what its users want. At the end of the day, enhancing user experience will always be a priority.
The quality score describes Google's rating of the quality and relevancy of your ads and keywords. This is then multiplied with your maximum bid to decide where your ad will rank in the ad auction process. What defines your quality score includes your click-through rate, the relevance of your ad text, the quality of your landing page, and ad text relevance.
Creating Effective Google Ads
Creating effective Google ads requires a bit of trial and error if you aren't working with an experienced Google AdWords agency. Using keywords that are too broad can consequently show your ads to the wrong audience. When this happens, your ads essentially become irrelevant, and you're losing money with fewer clicks. That's why it's wise to observe what's working. Look at which keywords are receiving the most clicks and adjust your ads accordingly.
The quality of your ad goes further than just the ad. Optimizing your landing page is just as important as creating your ads. For example, does your landing page offer quality and informative content to offer a solution to the ad you're marketing? This is important because the conversion process should be straightforward for the user. Not to mention, this is an excellent way to boost your quality score. Which, in turn, will give you better ad placements.
How A Google Ads Agency Will Grow Your Business
Running Google ads efficiently will:
Drive qualified traffic to your site
Promote you to relevant customers
Increase in-store visits
Allow you to create time-efficient ads
One of the most significant benefits of Google ads is their precision regarding your target audience. You can provide a detailed description of your target audience. As long as you're choosing your keywords correctly, your ads are seen by people interested in your products, services, or information. The consumer's age, sites they visit, and their areas of interest are all examples of information Google will access to precisely target your required audience. If you're struggling with your keyword research, reach out to a Google AdWords agency.
Google Ads For Your Small Business
Google ads are very cost-effective, which makes them great for any kind of business. Whether it's a corporation or your local mom and pop shop, Google ads are an excellent marketing strategy for any business. If you are a small business call now for your free consultation.
Google AdWords Agency Conclusion
Creating effective Google ads and participating in the bidding process can be quite a process for someone inexperienced. If your business is interested in running Google Ads, Facebook Ads or even email marketing, consider involving yourself with a Google AdWords agency like Strategic Media Inc. You can contact us online or give us a call at 727-531-7622.