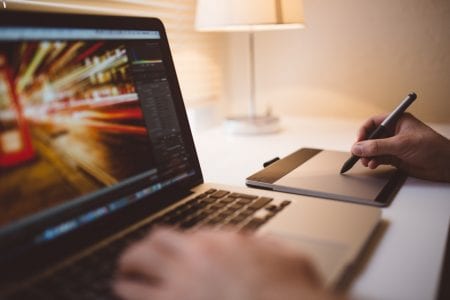 Choosing the best web design and development company in Tampa means selecting a good cover for your business because, like it or not, human nature is hardwired to 'judge a book by its cover.' Let Strategic Media help you make your presence on the internet as appealing as the quality of your work.
Why Hire the Best Web Design and Development Company?
When people look at your business, they do not see the brilliant minds, the excellent services, or the state-of-the-art products you provide unless you use your website to showcase your business with up-to-date and optimal design.
Hiring the best web design and development company in Tampa allows you to present your business accurately and highlight your greatest assets to residents living in the Bay area. Having an active site makes it easy for your potential customers find you on the internet and allows them to understand the types of services you provide or the products you offer.
This is also an easy way for them to learn how to get in touch with you through phone, email, or in person. The best part is that your customers can buy your product or schedule your services from the comfort of their home.
How do we help you to achieve all that? Read on to familiarize yourself with Strategic Media's six step process.
1. Discovering Your Business
First and foremost, we need to understand who you are and what you do in Tampa. The discovery step is vital because we create a customized site based on your company, your colors, mottos, and character.
We use your colors, logos, and more to make your services and products the essence of your site. The best web design and development company in Tampa will get to know:
Character of your business
Services that you provide
Products you offer
Target audience
Firm's history
Your mission statement
What customers and clients are saying about you
Contact and location details so people can get in touch with you
What you want customers who land on your site to do — your 'call to action'
Having a healthy online business presence in Tampa has many components, and we do not expect you to know everything right off the bat or to have an answer for every question we ask, but the more you can tell us about your company, the better we can represent you to your clients. You should also keep in mind that we are the best web design and development company for you because we work with you continuously throughout the process.
As new things come up — you add a new product line or start offering additional services — the best web design and development company will work them into your site. A working site is like a living organism — it is always growing and expanding. New features are added, and new pages are created on a weekly basis, so no worries if you cannot describe your business thoroughly during our first meeting, we will stick around.
2. Brainstorming and Idea Building
After the discovery stage, we take what we learn about you and meet with our team for a brainstorming session. That is when our brilliant developers take your company's goals and make a draft of your website. The creative team at the best web design and development company is always creating sites, staying up-to-date with new features and the changing tides in technology. The team sees what works and what does not and use their latest findings to brainstorm how to successfully handle and manage your new spot on the internet.
Our team takes your unique business image in Tampa and think about ways to appeal to your target audience. We believe that it is essential to highlight the most excellent features of your business and find ways to make sure that your page visitor notices what is most important, understand your call to action, get a feel for who you are, and gain a sense of trust for your brand.
3. Layout and Design Creation
Once we fine-tune the ideas from our brainstorming session, we begin to turn them into reality in Tampa (well, virtual reality, to be more precise) and get down to business. When it comes to layout and design, there are many decisions we must make and the more we understand your work, the more accurately each decision will reflect what you do.
During the layout and design phase, we work on the framework of your site (the look, and feel, the call to action) and create a plan for how your client will navigate your site. The team at the best web design and development company in Tampa makes critical decisions about many of the parts that come together to create the whole working structure of your online presence. This includes:
Fonts
Choosing appropriate fonts is essential for both the design and the functionality of your site. Some fonts are cool, but are difficult to read, while others seem too loud or all wrong for the content that they strive to portray.
Colors
We take the colors of your logo and overall color scheme that represents your company and use the RGB color system and the color wheel to create a harmonious design that appeals to your audience. Not only is the power of color used to appeal to the subconscious, but different color schemes also play a significant role in how they appeal to people on a subconscious level. The team at the best web design and development company in Tampa uses their knowledge of color to appeal to your clients in a powerful way.
Textures
We work on choosing and mixing a variety of textures that go along with your business style. Mixing textures creates a stimulating visual space for your clients while ensuring that their eyes stay tuned to the content on your site to absorb the message you are sending to them.
Images
Images play a major role in creating a quality and up-to-date Tampa business site. Having the right image makes a page more interesting for your client and breaks up the monotony of pure, unadulterated text. Images can allow the customer see your space, show examples of your work, and give them a better idea of what to expect from your products and services.
Icons
Icons are an essential part of a site that is easy to navigate. They are recognizable images that direct a person to the areas they need, ranging from contact information to search bars to social sharing icons. The best web design and development company makes sure to add them to your pages so your clients can have the most successful experience while exploring your business.
4. Content Construction
No matter how beautiful the layout and design is of your site, it is nothing without content. Content is the meat of your site. The best web design and development company in Tampa makes sure to provide reliable information to your site guests about your business by adding a variety of pages to include everything your client needs to know, including:
Welcome page with an introduction.
An 'about' page so that your customer can get to know a little bit more about who you are and what you do.
Contact page with your phone number, links to Google maps, and so on.
A blogroll to optimize SEO and to keep your clients coming back for more information.
Service descriptions for a more comprehensive look at what you offer.
Product pages that can be set up with an online shopping cart.
Reviews from customers who loved your products and services.
Portfolio pages if you have before and after photos or samples of your work.
Customized and extras pages tailored specifically for your brand or industry.
What Does Good Content do for your business?
Good content is easy to read, easy to navigate, and answers questions before your client has a chance to ask them. The best web design and development company chooses content that gives your viewer an accurate understanding of who you are and what they can expect from your products and services.
Content is valuable for providing information to clients in Tampa, but it is not merely about having content. The order in which the information is presented, the way that it appears on the screen, and all of the other aspects that we discussed earlier such as design and layout allow for the essence of your content to reach your viewers and motivate them to take the action you want.
Your content is there to inform your potential client, allow them to understand what you do, and take action by calling, ordering, or scheduling a consultation before they navigate away from your site. The best web design and development company uses their understanding of trends, best practices, and consumer habits to make your content powerful in Tampa.
5. Testing
Once we accomplish each of the steps that we discussed, from getting to know you to brainstorming, to getting your site setup with the layout, design, and content and we feel that your site is ready to reach your clients, we throw in another step —testing. During the testing phase, we put the site through a series of tests to make sure that it is working optimally. The best web design and development company in Tampa relies on many of the established tests, which allow you to be confident that your site will work on all of the various platforms that your clients may use. Testing makes sure that your site is responsive no matter which gadget someone uses to access it.
Whether it is the latest iPhone, a tablet, or their smart TV, we want your potential client to be able to navigate their way around fluidly. The best web design and development company in Tampa will check to make sure each page opens correctly and that all of the links and buttons are doing what they should and navigating to the correct locations. Testing means looking at:
Responsiveness
Performance
Design functionality
Delays and load times
What you see when you open a page is just the outside, but there are a lot of backend processes that must work correctly for everything to work as it should. The framework consists of many codes that allow the downloading, processing, and transference of information to take place when you click around.
Even the best web design and development company in Tampa must check itself; in fact, smart testing is what allows us to create great results from the get-go rather than waiting for complaints from users. Our testing process allows you to be sure that you are getting the product you paid for, that everything is up-to-date, and that your site is aesthetically pleasing and responsive.
6. Launching
Once your new site is built and tested by the best web design and development company in Tampa, we get your approval and prepare for launch. Once your website is launched successfully, we will help you understand how things work in the backend so that you will have full control of your site. You will be able to add content, edit or delete pages, posts, pictures, and more.
We want you to have power over your internet space and encourage you to log in and make the changes you think are needed once in a while because you know your target audience and your business better than anyone. Not all companies will allow you to do this, but we love working with our clients, and that is what makes us the best web design and development company in Tampa. We make sure to set up a dedicated session or two that will help you learn everything you need to know.
Call Strategic Media Inc. When you Need the Best Web Design and Development Company!
It does not matter whether you already have a site in Tampa, or if you have nothing but an idea — choose the best web design and development company to create a custom site for your business today. We are glad to pick up where another business left off if you are struggling with an outdated or ineffective site as much as we are happy to help you with ideas to start a fresh, new one.
Many of our clients are amazed at how much their business improves once they have an active, updated site on the internet. The sooner you get your service or product online in a modern and appealing way, the sooner your clients can find you.
Strategic Media offers creative marketing solutions for all of your internet needs. Not only do we offer some of the best web design and development company services around, but we also specialize in many other aspects of online marketing. Check out other services including:
Search Engine Optimization
Reputation Management
Social Media
Online Marketing
Indoor Advertising
Are you ready to optimize your business? Call the best web design and development company in Tampa today at 727-531-7622 to schedule your free consultation.