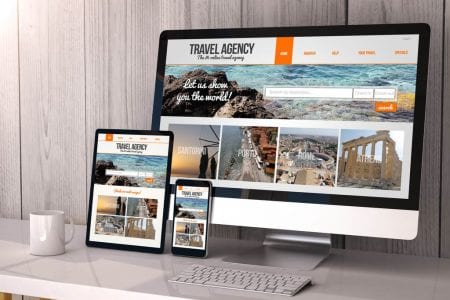 Growing a new business or breathing new life into a long existing one can be a matter of spreading information about your services. With out elite web design company, business owners can avoid missing out on the largest growing consumer demographic. Online shoppers have taken over retail stores in many aspects, and the demand will only continue to grow. St. Petersburg business owners attempting to create or expand can best do so through the means of a strong internet presence.
Many template websites do not offer complete customization that businesses need. If they do, then it is often under another more expensive service package. Instead of spending more and continually upgrading services, you can rely on consistent assistance from the professionals. Another major issue with building pages using cookie-cutter layouts is that customers may have a difficult time differentiating your business from the competition. With help from Strategic Media Inc., companies in St. Petersburg can create a unique, fantastic-looking site that draws in potential clients.
Why is Professional Web Design Important?
A significant benefit of working with an elite web design company is improving or updating old pages. Over time your fresh piece of content diminishes. Refreshing your content can increase rankings. In the past decade, many brands have switched from lower-quality visuals to high-resolution banners and complex coding. There is also an expectation for St. Petersburg business sites to have adequate Search Engine Optimization. Professional designers have years of experience researching and implementing effective techniques for SEO. When it comes to growing an online presence, nothing is more important than easy to access information. Confusing menus, bad coding, and content errors can lower customer attraction.
Finding the Highest Level Web Design Company in Tampa Bay
Many times, the first experience customers throughout St. Petersburg will have with your business is through a search engine. If the first thing they find is a link to a 404 error page, they will move on to a different business. Having all your business information readily available also makes it easier for potential customers to reach you at any time of the day. Even when your business is closed, they can send a simple e-mail inquiry. The elite web design company will always ensure customers can easily access information and learn more about your services. This filters out those seeking other services that loosely relate to your business, but you do not offer. Professional content and layouts provide companies and entrepreneurs in St. Petersburg with better:
Aesthetics
Unity and ease of access
Representation of professionalism and brand
Aesthetics
Since your brand is highly essential to growing your business, specific color schemes, looks, and options have to be present on your site. Tampa Bay's most elite web design company available should be able to represent your business accurately. In the end, you will have the final say in content and choices. However, experienced creators will work with you along to way to ensure everything is accurate and looks appealing. St. Petersburg businesses dealing with e-commerce also require specific options like online stores. Not every template editor is going to offer opportunities for commercial transactions. With the growth of online sales, having an e-commerce site can be critical to increasing sales.
Unity and Ease of Access
If customers can view pages anywhere and from any modern device, then you will attract more traffic. Studies have found that a growing demographic of consumers mainly use their phone for online searches. If you have been in an accident and need an attorney, then it will be simpler to look one up immediately with your phone rather than wait until you are home. A professional elite web design company for your business will ensure your pages are accessible across platforms without errors.
Representation of Brand Professionalism
Outdated sites are not only ineffective, but they can be detrimental to customer perception. With a better-looking and functioning page, customers feel more like they are dealing with experienced professionals. Our elite web design company for your business can properly take your ideas and implement them into a professional final product.
Get Started by Contacting Strategic Media, Inc. Today
Do not get left behind while your competitors expand their customer base. By building a custom site today, individuals and companies throughout St. Petersburg can begin climbing up the search result rankings. For professional SEO content services and more, contact us at (727) 531-7622 or by going online.