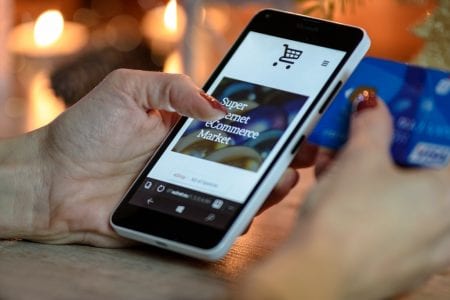 When it comes to modern day internet and technology, having a website for your business has become a necessity. In fact, many St. Petersburg residents do not need to go in stores any longer for many purchases. If you were to compare the growth of online transactions and websites to that of physical retail stores, you would notice a large upwards trend for online transactions and a decrease in growth from physical stores. This is most likely because technology has become more widespread and available than ever.
Almost everyone has a phone that gives them full internet function at their fingertips. Rather than having to visit a place in person, it is often simpler to use eCommerce websites. In addition, there are often online deals and events that are easier to partake in, regardless of the customer's location. Instead of getting caught up in lines and driving out of their way, the client can order and then go about their usual business.
Benefits of eCommerce Websites
Rather than worry about losing customers, St. Petersburg business owners can instead invest in eCommerce websites. By having your own site up and running, customers across the city have access to your business and information at all times. Unlike a physical retail store, you can benefit from having customers be able to shop at any time. In addition, for businesses that have a physical store, you can benefit from the exposure having a site available on the internet.
When it comes to looking for where to eat, shop, or receive services, the first thing people often do is look online. Reviews and information can help direct customers to your business instead of the competition. For example, most St. Petersburg residents would feel more comfortable going to a business with a dozen reviews than one without an online presence. With eCommerce websites, business owners can benefit from:
Ease and convenience
Search Engine Optimization (SEO)
Lower cost of inventory management
Providing customers with Frequently Asked Questions and other information before they call or come to the store
Selling your products worldwide
And having an online store that is open 24 hours a day
Maintaining Your Site
With the convenience and ease of eCommerce websites, it can be easy to see why so many business and customers have been transitioning from malls and other retail stores in favor of online alternatives. In addition, it is easier to browse and shop for items through an online catalog than in person. Having a website with online transactions can help both the customer and business owner. Rising through the ranks of internet sites means that you will have more exposure to clientele. When individuals look for services that you provide, you are more likely to show up if you have the right internet marketing. Millions of people use search engines like Google to find businesses and part of managing an online presence is SEO. When it comes to creating, managing, and producing content for your site, Strategic Media Inc. in St. Petersburg can help you.
Getting Started with eCommerce Websites
Dealing with new technology and programs you may not be familiar with can be stressful. However, you do not need to handle the tough parts as long as you have Strategic Media Inc. on your side. Your site and content will get the treatment they need to rise through the rankings. Consistently monitoring and making sure that your site and is up and running can be difficult if you are not always aware of updates. In addition, other issues from coding can arise that can require a professional touch. Instead of worrying about writing content for your eCommerce websites, Strategic Media Inc. can help your St. Petersburg business grow.
Hire an SEO Company Today
Your St. Petersburg business does not need to be exclusively physical any longer. Have a site can not only make it easier on you but can also increase consumer knowledge of your business. When someone searches for services you provide, you want to be the site that stands out on top. Do not get left behind while your competitors rise through the ranking and receive more clients. For assistance in creating and managing your eCommerce websites, contact Strategic Media today online or at (727) 531-7622.