People looking for a reputable contractor will more than likely trust Google for recommendations. According to Broadband Search, there are more than 2 trillion searches every year. At this point, it's almost a habit to enter Google when curiosity arises. That's where SEO for contractors comes into play. Ensure you're the company that's top in the search engines, so you don't lose business to competitors.
How can SEO for Contractors Benefit you?
You can do the following: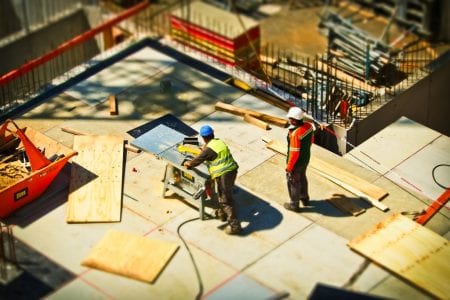 Analyze competitors
Research keywords
Promote content
Outrank the "big" companies
Create brand awareness
Analyzing Competitors
Analyzing your competitors allows you to create the perfect SEO strategy. You can upgrade your link profile, find strong keywords, and expand your audience all through competitor analysis.
When building your link profile, having quality backlinks is just one of the ways to rank higher in search engines. You can check the successful backlinks of competitors and utilize those sites for your content. Additionally, you can look at keywords that are generating your competitor's more traffic and use them yourself. Or even obtain inspiration for blog ideas based on how your competitors creatively used keywords.
Competitor analysis can also be an advantage when it comes to growing your audience. Targeting a very precise audience is an important aspect of SEO. Analyzing your competitors' buyer persona can come in handy by creating strategies that appeal to their audience and your pre-existing target audience. Consequently, enhancing your outreach.
Improve Content With SEO For Contractors
The quality of your content is vital. There are no cutting corners when it comes to content creation. User experience is a key ranking factor for Google, so if users aren't engaged with your content, you will not rank. Additionally, your content is where you will incorporate keywords to compete with other companies. When users type a question into the search bar, Google searches through a plethora of content to find relatable keywords. These keywords must be included in your content. Great content will also generate quality backlinks from credible websites, earning you higher rankings because you're seen as a credible site.
Outrank The "Big" Companies
Google's search results are organic, so there's an unbiased opportunity for any company to rank in the search engines. Even with no SEO budget, you still have the chance to outrank companies with more resources. This is awesome for a small business that can't financially compete with the big companies.
What it really boils down to, though, is how fast you're willing to work. Everything slows down within larger companies because of the abundance of other priorities. So if you're execution speed is top-notch, then this could be your most significant advantage.
But your schedules pretty busy already, right? Fortunately, our team at Strategic Media Inc. performs SEO for contractors. We can take some of the stress off your shoulders and spend quality time on your site necessary to outrank the more prominent companies.
Brand Awareness
A key part of promoting a product or service is brand awareness. When your site is optimized and showing up in search engines, people are becoming aware of your brand. That's why it's important to be seen even if you aren't receiving clicks.
When people recognize your brand, they begin to trust your brand. The relationship you form with consumers is vital. Developing positive relationships with consumers is how you create loyal customers and positively impact your brand's reputation.
All of these great benefits of brand awareness are right at your fingertips when you invest in SEO for contractors. You're proud of your brand, so show it off to the best of your abilities with the help of our team at Strategic Media Inc.
SEO For Contractors: Taking Advantage Of The Local Game
Taking advantage of the local game is especially important for contractors. Rather than being able to ship a product anywhere, you're supplying a service that is only relevant locally. So with local SEO, you're able to target specific areas that your competitors are also trying to deliver services within.
So when someone is looking for a contractor in the Tampa Bay area, we can make sure to include that city within your content. This way, you're locally relevant to consumers online.
Contact Us
If you are a small business or if you are a contractor looking for SEO, message Strategic Media Inc. online or give us a call at 727-531-7622. Benefit from the opportunity to analyze competitors and get to the top of the search engines.